This afternoon was prime time! Premiere with a spray gun for me, too. I had cleaned and etched all the VS skeleton parts and the rudder stiffeners yesterday, and the VS and rudder skins today. For the rudder I left the outer part of the skin unprimed, since it still needs to be drilled to the spar and dimpled. So I taped that area for scuffing, etching and priming. Impressive to see the difference between the bare alclad and the scuffed and etched surface: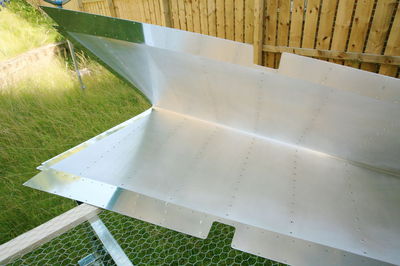 Shooting the primer is really a learning experience. I got some runs on the flanges of the first ribs I primed, but the later parts went much better. I also grossly underestimated the amount of primer I need, so I ran out of primer three times. Later I searched the VAF archives and found that the amount I used isn't uncommon at all, and measuring the thickness in a couple of locations shows that I have about .0015 inch of primer on the parts (well, except for those first ribs ...).
BTW, I'm using Stewart's EkoPoxy, smoke gray. This is a water borne epoxy primer that forms a sealed surface. It is supposed to be fairly tough and the best part is: it's considered non-hazardous and doesn't contain chromates or lead. I still wear a respirator, but I'm not as concerned about my health as I would be with the classic zinc chromate stuff. Since it's water borne, cleanup is easy, too -- just rinse with water.
The VS skeleton: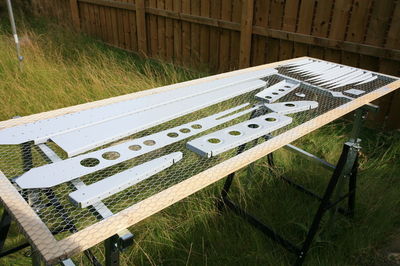 Rudder skin: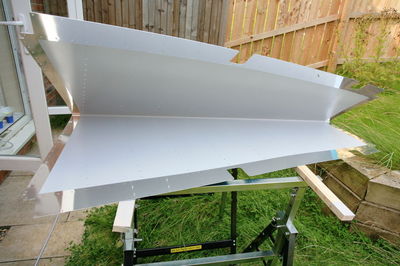 VS skin (no, I didn't shoot it in the grass):