I got some work done on the RV in the past few days, but didn't write any updates here, so today's entry actually covers three days.
As you already read I have lots of primed parts now, so I could do some riveting. I started with the horizontal stabilizer spars. The rear spar consists of the left and right channel (HS-603PP) and two reinforcement bars (HS-609PP) plus some hinge brackets and the central bearing for the elevators. Here you see the reinforcement bars clecoed to the spar channels: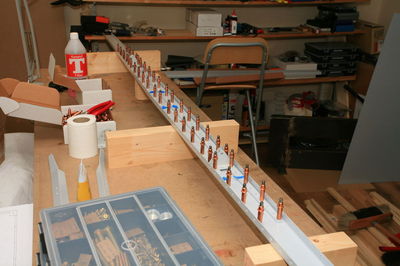 And the riveted spar: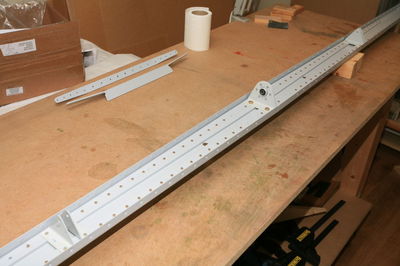 The plans call for AN470AD4-5 rivets for the outer hinge brackets (HS-413PP), but they are way too long and so I used -4 rivets after the very first -5 rivet tipped over and I had to drill it out.
The central bearing is bolted to the spar. Instead of AN-365 nylocks I decided to use all-metal locknuts (MS-21042) because they are quite a bit lighter (0.75g vs 2.2g) and perform the same. Here they are, torqued and sealed: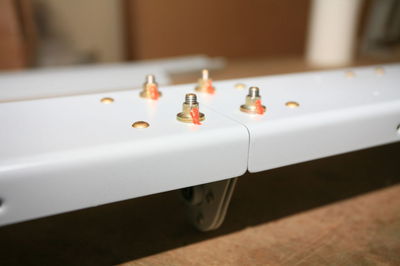 The next day I proceeded with the front spar. Again it's made from two halves (HS-702), this time jointed with two angles (HS-810-1 and HS-814-1). That's what they looked like about half way through the riveting: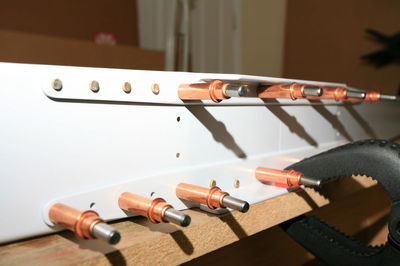 And the (almost) finished product. The central rivets are flush rivets which I did later, and the other holes stayed empty for ribs and the fuselage attachment: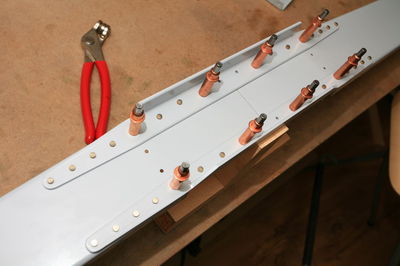 Talking about ribs, I also riveted the main ribs to the spar. Looks like an airplane, doesn't it? I can assure you that no neighbors were harmed during the generation of airplane noises.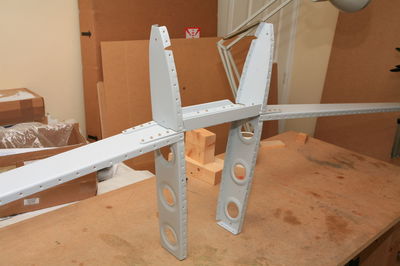 Fast forward two days. This afternoon I drove and squeezed some more rivets. As an easy starter I attached the plate nuts to the E-615PP trim access reinforcement plate. Instead of dimpling the plate nuts I machine countersunk the reinforcement plate and used NAS1097 flush rivets.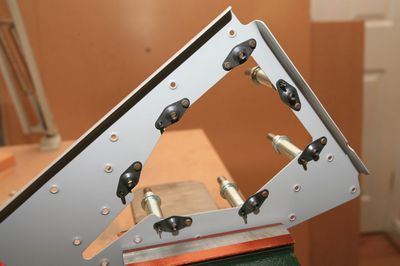 And finally I riveted the HS-707 nose ribs into the two HS skins. I'm glad I have the tungsten bar. There isn't much space to buck the forward rivets: